Break Out the Sunscreen! Summer Has Arrived!
June 01, 2021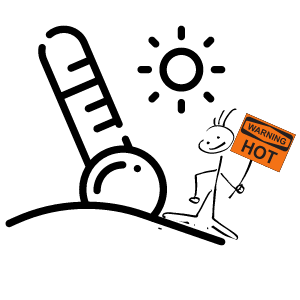 Ladies and Gentlemen! The month of June officially marks the official start of Summer in the Northern Hemisphere!
It is officially time to break out those kiddy pools, throw those freezie pops in the freezer, and put on that sunscreen. Our recent months of lockdown have made the 2021 Summer that much sweeter, and, be assured, Summer 2021 is going to be sizzling!
So while you are breaking out the swim floaties, firing up the grill, and lighting those fireworks… we'd like to suggest a few ways to keep you safe on all your summer adventures!
Tops Summer Safety Tips of 2021
Drink Water and Stay Hydrated.

Don't forget the Sunscreen.

Wear your bug spray!
BBQ Safety Tips (Don't become a neighborhood statistic!)
Keep the grill 10 ft away from any structure.

Clean your grill regularly.

Check for gas leaks periodically.

Some forms of alcohol are flammable.

Bug spray is HIGHLY FLAMMABLE. Spray with caution!

Do not grill indoors (even if it is raining).
Firework Safety
Confirm that fireworks are legal in your area before using them.

Do not allow children to ignite fireworks.

Do not try to re-light or pick up a firework that might not have fully ignited.

Keep a bucket of water on-hand at all times.

Do not store fireworks in your pocket.
We don't think that it is any coincidence that water is a point of safety on all of these lists!
Remember, summer is the time to enjoy longer days and the great outdoors. Stay safe this summer and be sure to keep your water bottle ready!


Article Sources
https://www.redcross.org/about-us/news-and-events/news/summer-safety-tips.html
https://www.poehealth.org/summer-safety/
https://abcnews.go.com/Business/ten-tips-safe-summer-barbecues-learn-dos-donts/story?id=13918382
https://www.cpsc.gov/Safety-Education/Safety-Education-Centers/Fireworks#:~:text=Never%20place%20any%20part%20of,that%20have%20not%20ignited%20fully.&text=Never%20carry%20fireworks%20in%20a,in%20metal%20or%20glass%20containers.


Want to Learn More?
https://www.nsc.org/home-safety/tools-resources/seasonal-safety/summer
https://www.cdc.gov/media/releases/2019/p0517-eight-tips-healthy-summer.html
https://pksafety.com/blog/5-things-you-didnt-know-about-bug-repellent-and-flame-resistance


Other Resources

For Kids
Reason for the Seasons : Earth's Tilt